When was the last time you measured bra size? if it was more than six months ago, there is a decent chance that the number/letter combination in your head may not be 100% accurate.
In short, the number on your bra represents your band size. This letter corresponds to your cup size, which is the difference between the largest part of your bust and the size of your belt (more on that later). All in all, you already have your bra size—or at least a version of it, because each bra maker is slightly different from the manufacturer, Harrington points out. So you may have a better fit in different sizes than initially measured. It's okay!
Sure, any lingerie boutique or department store clerk can make measurements for you, but we live in an era of DIY and online shopping, so knowing how to make your own measurements correctly is a real sign of adulting (all you need is a tape measure (the kind used for soft clothing) and a way to record your number. A well-fitting bra is just a few simple calculations too!
   STEP 1. MEASURE YOUR BAND SIZE
You'll want to be completely topless to make sure you measure your breasts in the most natural circumstances, Harrington says-without filling, binding, lifting or contracting. Take the tape measure and wrap it around your chest, just under your bust. The tape measure should be parallel to the ground.
You should be able to put your finger under the tape measure. "If you pull the tape measure too tight, you may get a bra strap that's too tight, "Harrington said. "If you have a bigger or heavier bust, you probably do want a somewhat tight bra strap, but let's start with an accurate measurement. If you have a smaller bust and have a bra strap that is too tight can be very uncomfortable, especially if you are thinner and have fewer pads in your ribs, because the bra strap rests directly on these bones."
Rounding the measurements to the nearest integer, you have your band size. Depending on the manufacturer, you may need to add four if the measured value is even, and five if the number is odd. So, if you measure 34 inches, your band size will be 38;if you measure 27 inches, your band size will be 32. Historically, this has been standard practice for bras measurement and manufacturing-and no one really knows why. Some speculate that the "plus four rule" is to adapt to the breathing space when the bra is made of inelastic materials, such as silk and satin.
STEP 2: MEASURE YOUR BUST SIZE
More specifically, measure the fullest part of your bust. Again, keep the tape measure parallel to the ground and wrap the tape measure around the body at nipple height "because this is often where the chest protrudes most," Harrington said.
For those who have a fuller bottom of the breast tissue, or if your chest is less prominent, Harrington suggests that you may need to bend the waist to get an accurate nipple measurement. You can also measure your bust while lying on your back if your mobility prevents you from standing up or bending over.
STEP 3: FIND YOUR CUP SIZE
Take your bust measurements (usually larger numbers) and subtract your band measurements. This number corresponds to the size of your cup. If your bust measurement and belt measurement are the same number, you are an AA cup. If there is a 1-inch difference between the bust and the band, you are an a-cup;the 2-inch difference is a B-cup, the 3-inch is a C-cup, the 4-inch is a D-cup, and so on. For example, if your bust measurement is 37 inches and your band is 33 inches, you will be a D-cup because of the 4-inch difference.
STEP 4: PUT EVERYTHING TOGETHER
Remember when we measured our band size in the first step? Take this number and put it in front of the cup size you just calculated in Step 3. Using the example of the last step, the bra size will be 33D.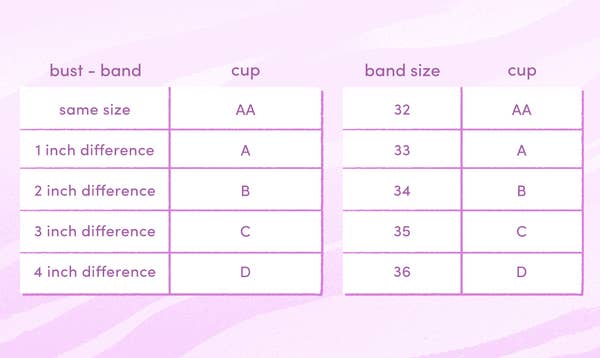 STEP 5: REPEAT MEASUREMENT OFTEN
Because our bodies are constantly changing, it is very important to measure your bra size regularly. Harrington recommends that the work be re-measured every three to six months. Depending on the time of year you are in your cycle, or if you have just given birth, you may get a size that seems to be way off from the last measurement. "A lot of people may increase or decrease the size of a cup or two depending on where they are in the cycle," Harrington said. "Having different measurements doesn't mean you need to go out and buy all new bras, but it's good to know what your natural measurement range might be."